Social Media Can Attract Baby Boomers To Retirement Communities – Just Watch Us Do It!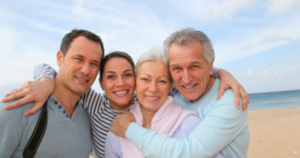 Across the country, there's been a big push in the construction and redevelopment of active living, independent living, and a myriad of other retirement communities.
There's a good reason for this: Baby Boomers are aging and busy looking for high-quality retirement communities to enjoy the rest of their lives.
Builders are busy, too, working hard to stand out and reach their target audiences to sell or lease their units.
With a lot of competition, more and more development and management companies are rightfully turning to social media to find and interact with senior citizens as well as their children, who are often in the position to make big decisions for their parents.
The social media campaigns are working. Case and point: Procon Management Services recently used social media (specifically Facebook) to get numerous leads for an new active adult community on Long Island, New York, where prices start at $322,400.
In one month, with a budget of just $700, Procon reached 44,557 people on Facebook with crafty messages and posts. All of these people were either active adults or children of active adults in the local area. In all, 31 leads were generated – that's one lead a day, costing just $22.58 a lead.
In addition, Procon did a $250 website click campaign geared to children of active adults. That generated 770 clicks to the development's website, reaching 22,892 people and costing just 32 cents per click.
So yes, seniors are fast becoming active on social media platforms like Facebook, Twitter, Instagram, and LinkedIn. In fact, according to a 2016 Pew Research Center report, 35% of all adults aged 65 and older said they're on social media. That's more than triple what was reported in 2010, when only 11% said they were social media users.
But children of the seniors – the Generation Xers – are even more adapt to social media and the internet in general.
A smart approach is to create clever messaging to reach the children on social media so they can convince their parents to buy in or move into a retirement community. This makes perfect sense: the children are on smart phones, they understand social media, and they want what's best for their parents.
In the real estate community, using social media is an economical and affordable way to target and find prospects. Let's face it, only a small percentage of people are still relying on newspapers, TV and radio to find out about real estate listings. Plus, all those traditional ads are expensive, so builders and Realtors are finding more value in using social media to generate two-way conversations and develop quality leads.
Through social media, it's possible to do virtual tours and testimonials as well as share videos, photos, and other content when showing properties and creating buzz about them.
So just think of the potential in having such real-time interactions with seniors and their web-savvy children.
Procon Management Services can help builders and real estate professionals run successful social media campaigns to reach their targeted audiences.
Learn more about our social media services by clicking here.